FinTech globally are innovating and adapting newer technologies to make an impact on people's lives quicker, positive and scalable. Policymakers on the other hand are working to facilitate this change systematically, securely and long term. Adoption of these technologies is being driven by collaboration between fintechs, government and corporations.
The third edition of Global FinTech Fest is organized by the National Payments Corporation of India (NPCI), Payments Council of India (PCI), FinTech Convergence Council (FCC).
The theme for this year's edition is 'Creating A Sustainable Financial World - Green | Global | Inclusive'. This year's edition of GFF2022 will be a 4-day hybrid event from 19th Sept 2022 to 22 Sep 2022 and will discuss and debate the steps that should be taken to drive progress across the four pillars, viz. Planet, People, Prosperity and Principles of Governance, to build a sustainable financial sector, and as a result build a sustainable and inclusive world.FinTech globally are innovating and adapting newer technologies to make an impact on people's
In the last many decades, the world has made significant progress in driving financial inclusion, and since 2011, more than 1.2 billion people across the world have gotten access to financial accounts[i]. The outcome has been possible through the extensive efforts of governments through their policy and financial interventions, growth in mobile internet penetrations, and transformational FinTech innovations by incumbents and insurgents. Through their collaborative efforts, there has been a significant increase in the accessibility and affordability of financial products the world over.
Though we have made significant progress in terms of financial inclusion, COVID19 has laid bare weaknesses of the current economic and social systems to support the vast segments of the most disadvantaged and weaker sections of our society. At the advent of the pandemic, the weaker sections of the society were completely ill-prepared for the prolonged period of loss of income, increased medical expenses, and increased expenses related to education. The pandemic is estimated to have pushed additional 88 million to 115 million people into extreme poverty, setting back progress made over a decade.
As a result, there has been a shift in focus of many businesses and investors from profits to people. It is now proven beyond doubt that environmental and social issues have a profound and direct impact on economic stability. The financial system, which acts as a backbone of the system by providing the resources to run businesses, must act responsibly and realize how crucial its role is in bringing about these systemic changes.
The pandemic has acted as a wake-up call for the financial world, highlighting the need for building a sustainable and inclusive financial world focusing on improving environment, enhancing inclusivity, and ensuring global social well-being.

The World Economic Forum (WEF), through its International Business Council (IBC), on 22 September 2020, released a report "Measuring Stakeholder Capitalism: Towards Common Metrics and Consistent Reporting of Sustainable Value Creation" identifying a set of universal and material ESG metric for an organization[ii]. The metrics is organized into four pillars that are aligned with the essential elements of the United Nations

Sustainable Development Goals (SDGs)[iii]. The four pillars[iv] provide a good framework for the financial sector to work towards and measure itself against to build a sustainable world. The four pillars are: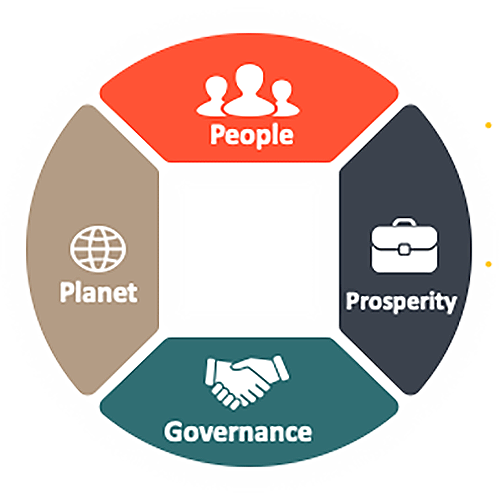 Ambition to protect the planet from degradation, including through sustainable consumption and production, sustainably managing its natural resources, and taking urgent action on climate change, so that it can support the needs of the present and future generations
Ambition to end poverty and hunger, in all their forms and dimensions, and ensure that all human beings can fulfil their potential in dignity and equality and a healthy environment
Ambition to ensure that all human beings can enjoy prosperous and fulfilling lives and that economic, social, and technological progress occurs in harmony with nature
Ambition to ensure that organizations embed their purpose at the centre of their business and drive "good governance"
This provides a fresh lens, for examining and self-evaluating the impact fintech and financial services sector is having in furthering the sustainability agenda. Government, private players, and regulators are taking significant steps to solve the environmental, social, and economic challenges of the new world. Though, there is a need for the fintech and financial services ecosystem to provide further impetus to this journey.
Given this, it behooves fintech and financial services fraternity to work towards building a sustainable, inclusive, and climate-conscious financial world. With that objective in mind, Global FinTech Fest 2022 will bring together the brightest minds from government, policymakers, financial institutions, and startups on a single platform. To discuss and debate the steps that should be taken to drive progress across the four pillars to build a sustainable financial sector, and as a result build a sustainable and inclusive world.
The speeches and discussions will cover a range of initiatives and interventions, right from government interventions, conducive policies, business models, technology, and operating model innovations that can be undertaken to give a massive push to the sustainability agenda. Creating a world where a person can meet their current needs, absorb unforeseen financial shocks, live a healthy life, and pursue their life goals.
A better world.